Twelve Superb Modern Chinese Novels in Translation
Despite Chinese author Mo Yan willing the Nobel Prize for Literature in 2012, shockingly little Chinese fiction is released in English translation.  There has been a doubling in recent years, it's true, but in terms of actual numbers of works published in translation, this is misleading.  Publisher's Weekly[1] reported around ten Chinese novels published annually in English between 2008 and 2017 and just 20 in 2018 and 2019.  In Radii China, translator Dylan Levi King writes "What makes it into English translation is often shaped by the idea that Chinese fiction's main function is to explain China, and by two sides wrangling over what story Chinese literature should tell."[2]
This is partly a factor of the paucity of Chinese novels being translated.  The exoticism of the unknown leads curious readers to seek out material that brings history and context to bear to fill the blanks in their understanding of a foreign culture.  But of course, much depends on whose history you are reading.  In China, art is state-sanctioned and books which don't conform to an image of China that Xi Jinping's government would like to promulgate, are frequently banned.  Therefore, artists often have three choices: write novels which fit within the official strictures (sometimes with subtly subversive undertones), publish risky material covertly and risk censure or go into exile and write as an ex-pat.
With these constraints in mind, I wanted to bring you a dozen recently published novels by Chinese (and one Taiwanese) authors who have been fortunate enough to be translated into English.  The works below range in style from traditional Wuxia (martial combat) fiction to detective serials to science fiction.  Many of them provide radical and/or controversial insights into modern China.  However, please bear in mind that these represent just a toe in the water in the vast ocean of untranslated Chinese fiction.
From a translators perspective, one of the interesting things about Chinese novels is the very frequent use of Chinese idioms, which I have discussed elsewhere.
1: Mo Yan – The Garlic Ballads (translated by Howard Goldblatt)
It makes sense to start with China's most recent Nobel Prize winner for Literature, Mo Yan.  Set in the farms of Paradise County, the novel depicts a collapse in the garlic markets, exacerbated by corrupt party officials and leading to a storming of the seat of local power.  Despite its apocalyptic and unrelenting nature, the novel also includes a love story, a tale of father and child and a third strand concerning two friends.  Banned after Tiananmen Square, The Garlic Ballads was written in 1988 but not published in English until 2006.
2: Wang Anyi – The Song of Everlasting Sorrow (Translated by Michael Berry & Susan Chan Egan)
Set in post-war Shanghai, Wang's 1991 novel follows the trials and tribulations of Wang Qiyao who, enamoured by the myths of Hollywood, rises from the slums of the city to compete in the 1946 Miss Shanghai contest, but whose short life fails to live up to this early promise.  She has a series of ill-fated romances and struggles to find her place in the world.  The book shares its title with a famous 10th century ballad and was published in 2008 by Columbia University Press.
3: Chun Sue – Beijing Doll (Translated by Howard Goldblatt)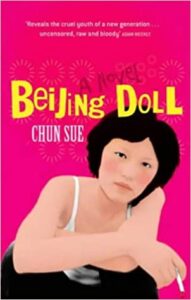 Beijing Today called this 2004 book "the first novel of 'tough youth' in China".  Immediately banned for its unflinching depiction of a young girl's sexual awakening and rock and roll lifestyle, the book became celebrated amongst younger readers outside of China.  It was based loosely on the author's own diaries and was a radical departure in style from the statelier storytelling modes common to Chinese literature.  If you like this, you might also try Shanghai Baby by Wei Hui.
4: Wolf Totem – Jiang Rong (Translated by Howard Goldblatt)
If epic fiction with sweeping vistas is to your taste, Wolf Totem could be the Chinese novel for you.  The 2004 book (translated in 2008) has the rare distinction of being the second best-selling Chinese work after Chairman Mao's Little Red Book.  It's the tale of Chen, a Beijing intellectual seeking enlightenment by living with the nomadic tribes of Inner Mongolia.  His adventurous idyll is shattered by the arrival of his countrymen, bent on exterminating the wolves who live in symbiotic rivalry with the Mongols, as well as forcibly modernising the tribesmen themselves.  It's almost a Chinese-Mongolian Dances with Wolves.
5: Wu Ming-Yi – The Man with the Compound Eyes (Translated by Darryl Sterk)
Prolific author, designer, photographer, environmental activist and all-round renaissance man Wu won several prizes for this 2011 magic realist novel (published in translation in 2013).  It's set on the island of Wayo Wayo, in a community where every second son is sacrificed to the Sea God.  Suicidal mother Alice is amazed when her own second son, Atile'i is disgorged back on the shore of Taiwan by an immense trash vortex, initiating a voyage of discovery.  Like Japan's Haruki Murakami, Wu blends fantastical and satirical elements into his realism.  The novel was nominated for the 2018 Man Booker Prize and there was controversy when China tried to "claim" the Taiwanese author as Chinese.
6: Three Sisters – Bi Feiyu (translated by Howard Goldblatt and Sylvia Li-Chun Lin)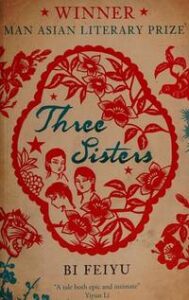 Not for everyone, this saga of three (of seven) sisters from one rural Chinese family, can be a challenging read due to its detached, somewhat formal style.  Nevertheless, persevere and you'll gain an insight into the challenging post-Cultural Revolution lives of rural Chinese families.  The 2003 novel, translated in 2010, won the inaugural Man Asian Literary Prize.  Author Bi also wrote the screenplay for legendary Chinese director Zhang Yimou's 1996 film Shanghai Triad.
7: Yan Lianke – Years, Months, Days (Translated by Carlos Rojas)
Actually two thematically-connected novellas, Years, Months, Days is sometimes considered a send-up of the Han-dynasty Zhiguai xiaoshuo style of supernatural stories.  The first tale concerns a Samuel Beckett-like holy fool driven from his village accompanied by his blind dog and a corn stalk which almost becomes a character in its own right.  The second story concerns a mother's attempts to marry off one of her mentally disabled daughters, who she learns can be "healed" with the aid of a sinister ritual.  Peter Morgan of the Sydney Morning Herald praised the book's "metaphorical lushness".
8: Cixin Liu – The Three Body Problem (translated by Ken Liu)
Chinese science fiction is experiencing something of a boom, perhaps because SF has always allowed writers to explore dangerous ideas and satirise current affairs without drawing undue attention from the authorities.  Cixin Liu is probably the genre's most successful Chinese proponent and the much-lauded book (praised by Barack Obama and George R. R. Martin, no less) is about to be released as an epic Netflix series.  The novel encompasses a timeframe from the 1960s through the Cultural Revolution, to the near-future and new revolutions in nanotechnology and virtual reality gaming.  The first in an epic series, this 2015 bestseller won both the Hugo and Galaxy Awards.
9: Jin Yong – A Hero Born (translated by Anna Holmwood)
From science fiction, we move to Wuxia fantasy, with what has been described as a Chinese "Lord of the Rings".  The first book in the Legends of the Condor Heroes series, A Hero Born will suit anyone who loved the cycle of movies from the early 21st century which began with Crouching Tiger, Hidden Dragon.  Set in the same milieu, the novel was first serialised in the Hong Kong Commercial Daily in the late 1950s and was subsequently revised for novel publication in the 1970s and 2000s.  Remarkably it was only translated into English in 2018 despite selling over 300 million copies in China.
10: Qiu Xiolong – Death of a Red Heroine (Detective Chen Series, written in English)
Okay, this is a bit of a cheat, since bestselling crime author Qiu has been writing in English since his exile to America in 1989, when events at Tiananmen Square and pronouncements about his work by the government made it clear he could not return home.  Qiu's series of noirish crime novels, beginning with Death of a Red Heroine in 2000, has been translated into multiple languages (including Chinese) as well as being adapted by Radio 4.  The novels offer political commentary on the legacies of the Cultural Revolution as well as investigative thrills with the poetical inspector Chen.
11: Yu Hua – To Live (translated by Michael Berry)
Originally banned, but now feted as one of the decade's most significant novels, To Live is a riches to rags story of penitence and redemption.  Spoiled Landlord's son Fugui loses everything and ends his life as an impoverished farmer, witnessing the privations of both the Civil War and Cultural Revolutions.  Published in 1993, To Live was only translated into English in 2013.  As its title suggests, the book is an almost mythic tale of stoicism and endurance.
12: Su Tong – The Boat to Redemption (translated by Howard Goldblatt)
2009 Man Asia Literary prize-winner Su was a major avant-garde writer of the Cultural Revolution and he considers this 2011 book his most significant novel.  A disgraced party official castrates himself for shame and embarks on a new life with a group of barge-dwelling itinerants.  Hit teenage son, who narrates the novel, comes of age and suffers romantic tribulations while finding his place in the floating world of the barge people.  A work of great symbolism and power, The Boat to Redemption is by turns comical and savage when it needs to be.
Conclusion – Chinese novels
Well, actually I've never translated a Chinese novel myself, since I focus more on commercial stuff, but I'm glad there is such a great range of brilliant books for English speakers to get stuck into.
[1] According to this tool: https://www.publishersweekly.com/pw/translation/search/index.html
[2] https://radiichina.com/translated-chinese-literature/