Hollywood Shanghaied – How Chinese Investment is Shaping Cinema
In this article, I wanted to touch on an aspect of culture which doesn't directly involve translation, but does show how the world is changing and that gives me a lot to think about with regards to the future direction of Chinese to English translation, especially with regards to movies and Hollywood.
You may have noticed more Chinese characters and actors appearing in Hollywood movies these days, as well as more scenes set in Shanghai or Beijing, or in the "Chinatown" districts of cities including New York, San Francisco, or London.  This is not simply a corrective to decades of "whitewashing" and the homogeneity of Hollywood casting calls, there are actually very sound business reasons for this new, and often welcome, diversity.
A recent report in The Economist points to the huge market potential for American cinema in China: "In the past 15 years China's box-office takings have risen 35-fold, to $9.7bn"[1].  That's an enormously growing audience, with an appetite for new blockbusters unsurpassed anywhere in the world.
Compare the monetary value of the Chinese audience with 2019's American domestic market of £11.4 billion and factor in the comparatively low price of a cinema ticket in China and you can see why Hollywood is salivating at the prospect of increasing market penetration within China.  This is increasing a demand for China-friendly product, which means that blockbuster movies costing 100s of million dollars are seeking Chinese buy-in in order to finance their profligacy.  With Chinese investment, there's a guarantee of an access point to this expanding market but it comes at a price: censorship.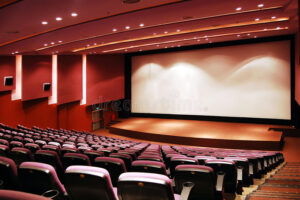 As Martha Bales in The Atlantic noted: "every film released in China must now be vetted not only by the Central Propaganda Department but also (depending on its subject matter) by the Ministry of State Security, the State Ethnic Affairs Commission, the Ministry of Public Security, the State Bureau of Religious Affairs, the Ministry of Education, the Ministry of Justice, the Ministry of Foreign Affairs, and numerous other bureaucratic entities."[2]  Gone are the days when America could use its movies as "soft" propaganda to spread American ideals and values across the globe.  These simply won't make it through President Xi's ideological filtration mechanisms.  The best-case scenario is that the Chinese release of an American blockbuster will be a substantially different version from the domestic release.  The worst-case scenario is America second-guessing its own content to pass the Chinese censors.
There are both good and bad examples of  Sino-American cinematic crossover.  At the start of the 21st century, western moviegoers loved the mythology-based cycle of arthouse martial arts movies that began with Crouching Tiger, Hidden Dragon (2000) and included Hero (2002) and House of Flying Daggers (2004).  These of course were ideologically neutral, being set hundreds of years ago in a mythologised Chinese past.
More problematic is the recent release "The Eight Hundred", an epic nationalist war movie that took 10 years to complete and has taken over $400 million at the Chinese box office.  Rumours of considerable state interference in terms of its content and presentation abound.  The film depicts a 1937 battle in the warehouse district of Shanghai as a group of soldiers and draft-dodgers band together to defeat the Japanese invaders.  It was pulled from the Shanghai Film Festival at the last minute for a re-edit, due to its supposedly pro-Taiwan content.  Opinions differ on whether history itself hit the edit-room floor.
That said, the film's huge success suggests China may not need to import so many foreign films to reap huge box office rewards.  Hollywood, with its box office receipts brutally curtailed by another Chinese import – Covid-19 – must be looking enviously at the 1.4 billion Chinese cinemagoers and wondering how to further penetrate this marketplace.
Hollywood hasn't done badly so far.  Of the top twenty films in China since 2010, five were US films, and those came from just three franchises: the Marvel Cinematic Universe (Avengers Endgame and Infinity War), DC (Aquaman) and Fast and Furious (The Fate of the Furious and Furious 7).  There are another eleven films in the top 50, bringing the US market share of the biggest blockbusters in China since 2010 to 38%, with a combined domestic Chinese gross of $32 billion.
It should come as no surprise then to see some egregious examples of self-censorship bring practised by Hollywood producers afraid of alienating a lucrative market.  From the removal of the Taiwanese flag on the back of Tom Cruise's jacket in Top Gun: Maverick to the inclusion of a baffling Chinese medic, Mr Wu, in Iron Man 3, Hollywood's eagerness to appease potential censors and gratify audiences has resulted in some questionable decision-making[3].
It's not all bad news, however.  It's pleasing to see more Chinese and second generation Chinese ethnicity actors onscreen in American movies, including Donnie Yen and Jiang Wen (Star Wars: Rogue One), Daniel Wu (Warcraft: the Beginning), Jay Chou (Now You See Me 2), model turned actress Angelababy (Independence Day: Resurgence) and of course the hardest-working Chinese-British actor in Hollywood, Benedict Wong (Avengers: Endgame).  The success of hit TV shows like Crazy Rich Asians should launch a new generation of stars to help address Hollywood's lack of South-East Asian representation onscreen.
China is an immense country with phenomenal locations potential, as exploited in franchises such as the Mission Impossible series (Xitang Water Town in M:I3) and Transformers (Wulong Karst Landscape in Age of Extinction).  However, American producers need to select these with caution.
Furthermore, co-productions are fraught with political difficulties.  Historical epic The Great Wall, starring Matt Damon and helmed by one of China's star directors, Zhang Yimou, was criticised in China for focusing upon a white character, as an all too obvious attempt to help the film fly in English-speaking countries.  The strategy failed and the film's massive budget meant that its $335 million global take wasn't sufficient to ward off losses of around $75 million.
Hong Kong was once a powerhouse of Chinese cinema, and the city state has long been a go-to location for a fix of South-East Asian exoticism, but the last notable foreign blockbusters shot there were Tomb Raider and Skyscraper (both 2018).  Hopefully, the Hong Kong movie scene will rise again, and further positive international collaborations can take place which are not fatally compromised, tokenistic or clumsy.
An equilibrium in Sino-American moviemaking may not be achieved until political turbulence eases. Perhaps the incoming US president, Joe Biden, together with the next wave of US trade emissaries, can help promote a more positive attitude to cultural and economic exchange.
From a translator's perspective, something interesting is that some semblance of Chinese culture is being drip-fed to westerners (there is a Chinese-language exchange in the movie Iron Man 3 for example) and hopefully that will raise awareness of Chinese, and in the long run, should be a good thing for us Chinese to English translators and for sinophiles in general. I expect subtitling to be a growth area over the coming decade.
[1] https://www.economist.com/business/2020/08/27/hollywoods-chinese-conundrums
[2] https://www.theatlantic.com/ideas/archive/2019/09/hollywoods-great-leap-backward-free-expression/598045/
[3] https://www.scmp.com/lifestyle/entertainment/article/3023568/nine-films-show-how-china-influences-hollywood-iron-man-3